PLAYLIST
DNews Tech Videos
Mar 7, 2013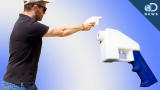 First Firing of "Liberator" 3D-Printed Gun
Defense Distributed has made good on its promise to produce and fire the world's first fully 3D-printed gun. Anthony looks at the impact this might have on our lives.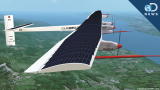 Solar Impulse Plane Takes Flight
Forget fossil fuel, this plane is driven by energy from the sun! Anthony woke up at the crack of dawn to watch the amazing Solar Impulse take to the sky.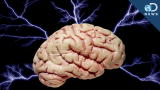 Brain in a Lab Controls a Power Plant
Our brains are expert problem solvers, and now scientists are trying to use the brain's skills to revolutionize the antiquated U.S. power grid. Anthony show us how a power system run by a human brain might work.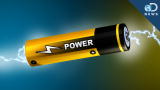 Charge Your Cell Phone in 5 Seconds
Supercapacitors: They'll enable you to charge your cell phone in 5 seconds, or an electric car in about a minute. They're cheap, biodegradable, never wear out and as Trace'll tell you, could be powering your life sooner than you'd think.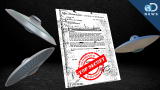 April Fools 2013: Top 3 Hoaxes in Science
Happy April Fools day, everyone! In honor of this most important holiday, Laci Green takes a look back at some of science's most infamous hoaxes.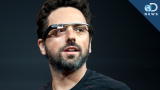 Google Glass: Why An Augmented Reality Is Here To Stay
Google Glass and other augmented reality projects are about to break onto the scene. But what does an augmented reality look like and how can it enhance our lives? Anthony has a sneak peak into the future.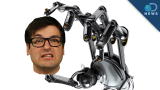 Mind Control Is Here!
Paralyzed no more! That's the goal of a team of brilliant scientists at the University of Pittsburgh School of Medicine. They've created a special implant that connects the human brain with a robot. An implant that effectively works the same way ...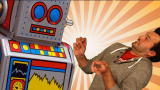 The Robot Takeover is Coming
When he learns that squirrels have taught robots to lie, Trace goes on a mission to discover if they'll be killing us all anytime soon.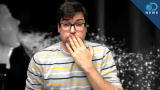 Vomiting Robot Helps Humanity
Meet Vomiting Larry, the puking robot! He's been made by scientists to study one of the most contagious viruses out there, the Norovirus. Anthony shows us why Larry's work is so important... and disgusting.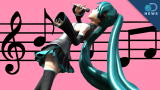 Robot Rock: Fake Bands on the Rise
It seems like there are more and more fake bands these days--music produced by computers and performed by either robots or avatars. Trace looks at a few of the "virtual bands" on the rise.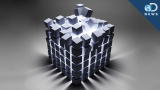 4D Printing: Better Than 3D?
Forget 3D, 4D is the future! The kinks are still being worked out, but this new technology could transform life here on Earth, and even outer space. Anthony tells us how.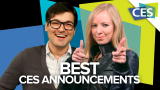 CES 2013: Annie and Anthony's Favorite?
Annie and Anthony went over some of their favorite things that they've seen so far at CES 2013.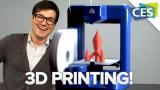 CES: Make Anything with this Amazing 3D Printer
Say hello to 3D printing in your home! The Cube provides consumers with endless possibilities, watch Anthony talk with 3D Systems to get all the details, and how you can get your hands on one!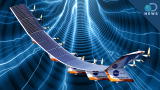 Electric Rides of the Future
While we've witnessed the rebirth of the electric car, here are three other battery powered / electric forms of transportation we can look forward to.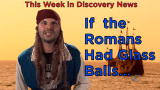 If the Romans Had Glass Balls...
This week in Discovery News, Trace walks with giants. The world's largest dog (and cat), a massive marble that could change how we consume solar energy, and a huge Roman mosaic found under a farmer's field!