PLAYLIST
Discovery News - Robotics
Nov 20, 2012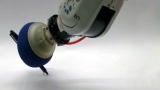 Robot Gripper Picks Up Anything
The rubber stress ball on your desk could usher in the next generation of robotic grippers. Researchers have built a gripper using a rubber membrane filled with everyday materials that can pick up anything from an egg to a glass of water.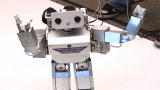 Mind-Controlled Robot Uses Human Brainwaves
University of Washington researchers have developed a mind-controlled robot that operates on human brainwaves. Discovery News' Kasey-Dee Gardner finds out the human benefits of such a robot.

Green Light for Robotic Roads
Cars that can talk to each other, to street lights and even to your mobile phone. In New York City, Jorge Ribas gets a glimpse into the future of transportation.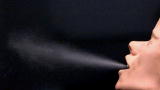 Coughing Robot Spews 'Flu Germs'
Flu viruses like the swine flu are spread in part by coughing and sneezing. A coughing robot shows James Williams just how far those germs can fly.

Robotic Arm Lends A Hand
Discovery's Tracy Staedter and Matt Danzico visit University of Massachusetts Amherst to meet a robot that interacts with foreign environments.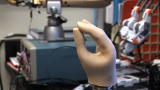 Cyborgs
Cyborgs may be strictly sci-fi, but brain-computer interfacing is real. Jorge Ribas finds out how this technology is helping people.

Robotic Snails May Save Lives
Discovery's Tracy Staedter and Matt Danzico visit MIT to learn about robotic snails that could one day be used in search and rescue.
Robot Gardeners Tend Tomatoes
Who needs a green thumb when you've got a robot to tend to your garden? James Williams get the dirt on a new garden-bot from MIT.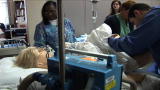 Pregnant Robot Trains Students
Medical students at Johns Hopkins University are getting a real-life birthing experience when a robot goes into labor. Kasey-Dee Gardner reports.

Is It Future Yet?: Car Thief Catcher
In Arlington, Virginia, police outfit ordinary cars with cameras, microphones and GPS to catch car thieves in the act. Jorge Ribas finds out how they do it.

The Grabbiest Lab In Boston
A Tufts University lab specializes in training doctors how to grab things inside you without cutting you open. Tracy Staedter and James Williams drop by to get a hold on the situation.

Is It Future Yet? :: Robot Cars
Why drive when robots can do it for you? Researchers at Virginia Tech take Jorge Ribas on a ride into the future of your commute.