PLAYLIST
Discocery News - Green Energy
Nov 20, 2012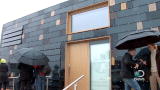 Solar Energy Simplified
Solar power can be complicated, but Solar Decathlon director Richard King gives Discovery News the lowdown on the three ways anyone can tap the sun's energy.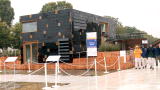 Solar Home Tips Found at Solar Decathlon
Solar homes come with the latest in green appliances and innovative technology at the 2009 Solar Decathlon. Discovery News' Alyssa Danigelis gets some home improvement tips.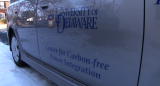 Electric Car Feeds Grid
V2G technology can turn an electric car into a moving power station. Jorge Ribas rides shotgun with Willett Kempton, the man behind the concept.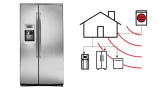 Smart Grids Make Fridges Smarter
The smart grid may make our home appliances smarter too. Jorge RIbas finds out how.
Truckin From Diesel to Veg Oil
A diesel-guzzling truck is converted to run on fryer oil. Take a trip with James Williams on the journey to veggie fuel automotion.

Scientists Turn Wood into Fuel
Discovery's Tracy Staedter and Matt Danzico visit University of Massachusetts Amherst to learn how biomass gas be transformed into green gasoline.

Underwater Turbines Pump Out Energy
Parts of New York City are getting their power from underwater turbines. Kasey-Dee Gardner finds out more about this type of renewable energy.

How Green Can A Building Be?
This office building is about as green as it gets. Tracy Staedter and James Williams see what they did to make it so Earth-friendly.

Power From A Floating Metal Donut
Energy from a floating nuclear donut? It might just happen if MIT researchers have their way. James Williams and Tracy Staedter dig in to the details.
Ze-Gen Creates Zero Emissions
The renewable energy company Ze-gen is converting construction waste into near zero-emissions energy. Discovery News finds out how they're doing it.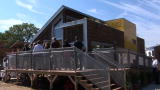 Solar Decathlon Illuminates Future Homes
How homey can a solar house really feel? The Discovery News team heads to the Solar Decathlon to see the light.