A small study recently took a look at how temperature affects metabolism when we're sleeping. Is cranking up the AC the key to fat-burning?
For a country supposedly obsessed with dieting and thinness, most Americans say they're neither overweight nor trying to lose weight. Continue reading →
Hefty polar bears, which love to sink their teeth into greasy blobs of fat, could hold the key to avoiding heart disease. Continue reading →
Gator fat turns out to be great for making biodiesel. Continue reading →
Most parents underestimate their children's weight, and half of parents did not recognize that their children were overweight or obese, research shows. Continue reading →
Scientists made an edible gel that tricks you into feeling more full. Continue reading →
The fast food chain is introducing lower-fat and lower-calorie French fries. Continue reading →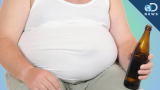 When it comes to those so-called 'beer bellies,' is beer really to blame or is it something else? Laci finds out.