PLAYLIST
Football Science
Nov 20, 2012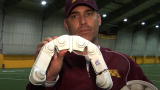 Football Helmets Detect Concussions
A new padding design in football helmets doesn't just protect players' heads better, it can prevent serious injury. Kasey-Dee Gardner gets the scoop.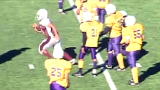 Trick Football Play Explained
When an epic trick play during a Driscoll Middle School football game went viral on YouTube, we wanted to know why it worked in the first pace. James Williams gets an explanation.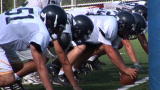 Summer Heat Dangerous For Athletes
All athletes, especially football players, should recognize the signs of dehydration during summertime practice. Discovery News' Jorge Ribas reports. Originally produced in August 2006.

Sports Stadium Strives for Sustainability
The University of Minnesota is striving to build the most environmentally friendly major sports stadium in the country. Kasey-Dee Gardner explains how they are doing it.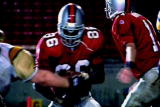 Smart Football
Love football? Find out how football engineering can enhance the ability to pass, punt, catch and spot the ball on this clip from The Science Channel's, "Pop Sci's Future of Play."

Football Helmets
In a game of tackles and tumbles, a helmet is a necessary piece of equipment. See how particles of plastic are fashioned into those familiar football helmets we see on the gridiron.